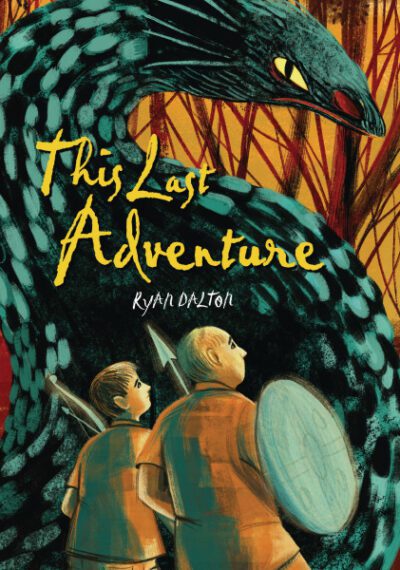 Archie's grandpa has always been his hero. But after Grandpa is diagnosed with Alzheimer's disease, the confident and adventurous man Archie's known all his life starts disappearing. He's not just losing his memory. He's losing pieces of himself.
Archie desperately wants to slow the progression of Grandpa's memory loss. Using Grandpa's old journal entries as inspiration, he creates shared role-playing fantasies with epic quests for them to tackle together–helping Grandpa to live in the present while staying in touch with his fading memories.
But there's a limit to the power of the fantasies. And not all the memories recorded in the journal entries are happy. When Archie learns a painful secret about Grandpa's past, he questions everything he thought he knew about his hero.
As Grandpa's condition worsens, Archie has to come to terms with the reality of what he's losing and decide what it truly means to live a life worth remembering.
THIS LAST ADVENTURE has been described as Big Fish meets Tuesdays with Morrie for kids.
Preorder from Changing Hands
Preorder from Main Street Books
Preorder from Mysterious Galaxy
Preorder from Poisoned Pen
Preorder from Bookshop.org
Preorder from Barnes & Noble
Preorder from Amazon
Praise for This Last Adventure:
"This Last Adventure is a sensitive, touching story that emerges right when this generation of kids needs it. Archie is a funny, awkward, wholly relatable character with big problems, and a bigger imagination. Like Archie, you'll find yourself rooting for the impossible . . . and dealing with the realization that life is a real adventure and there are no guarantees. How is a book about a boy dealing with his grandfather's Alzheimer's disease fun? I'm not sure, but Ryan Dalton has pulled it off! With a family history of the disease, I can't wait to hand this book to the younglings in my family."
–Aprilynne Pike, #1 New York Times bestseller of the Wings series
"This Last Adventure has something for everyone: family, friendship, a little bit of fantasy, and a whole lot of heart. I loved it."
–Dusti Bowling, author of The Canyon's Edge
"This Last Adventure is a touching story that a lot of young readers will find relatable. As empowering and inspiring as it is heart-wrenching, this book will no doubt comfort kids who are dealing with the emotions and struggles that come with watching an ageing loved one go through changes, whether from Alzheimer's or another condition."
—Christina Collins, author of After Zero
---
Book categories: MG Contemporary